Preferred Strategy
Ended on the 8 February 2019
2. What is the Preferred Strategy?
2.1 This Preferred Strategy is part of a set of documents which we are required to prepare in the process of producing the Revised LDP for Carmarthenshire. It represents an early but important early stage in preparing the Plan and follows the publication of the Delivery Agreement as approved by the Welsh Government on the 28th June 2018[3].
2.2 The purpose of this Preferred Strategy is to set the long term vision for Carmarthenshire (excluding that area within the Brecon Beacons National Park) and the strategic objectives and the strategic land use polices to deliver that vision.
2.3 It will provide the strategic direction for the development and use of land until 2033. It also tells us how much development is needed and broadly where this is likely to be. However, this Preferred Strategy is not the full LDP, rather it sets out broad strategic principles for development in our area. The full Plan is called the Deposit LDP and will contain detailed and specific policies as well as settlement maps, development limits, site-specific allocations (housing sites) etc.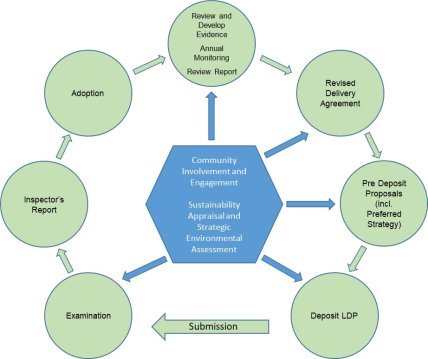 2.4 Further information on the stages in preparing the LDP is available within the Delivery Agreement or on the Council's web-pages.
2.5 This Preferred Strategy should be read and considered as a whole having regard to the provisions of Planning Policy Wales and the relevant Technical Advice Notes.

back to top
back to top